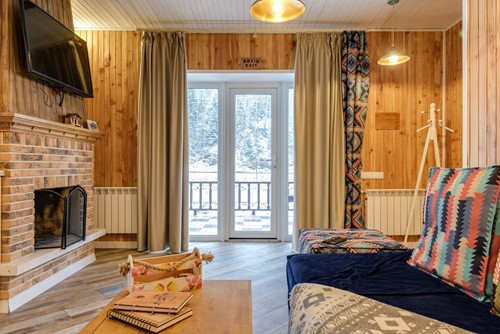 There's no reason you need to feel limited by a small room. While it might seem that less space means less opportunity for creativity, there are still plenty of design tricks you can use to make the room feel bigger while expressing your personal style. Here we've put together some tips for decorating your small space so that you can feel at home no matter the size.
Go for Large Area Rugs
It might seem counterintuitive to choose a large rug for a small space. However, unlike small rugs that visually break up the floor space, a single large rug will unify everything and create the illusion of more room. Don't be afraid of colors and bold patterns, too. A vibrant rug will create a unique focal point to build your design around without making the room feel smaller.
Swap Out the Sofa
Instead of a sofa, opt for arm chairs or love seats. With these smaller furnishings, you can seat the same number of people while keeping the space feeling more open and spacious. Even oversized armchairs work well for this design strategy. Arranging multiple chairs or loveseats with small end tables between them is a great alternative to a sofa that dominates the entire room. If you love your sofa too much to replace it, try making it a statement furnishing in the room rather than surround it with clutter. This way you can create more space while still enjoying the seating you prefer.
Include Mirrors
To make a room seem bigger in a simple step, just add a mirror. Not only does it create the illusion of more space, it helps bounce light back into the room. This is a great way to take advantage of that single window or even to make that new statement light fixture shine its brightest. For an added design twist, try layering mirrors of different sizes or shapes on the mantle or sideboard.
Be Mindful of Art Placement
If you have art, photography or other wall-mounted decor, try hanging it at eye-level or above. You can even set up a gallery wall to show off your favorite pieces while drawing the gaze upward. Try arranging up rather than out to the sides when hanging decor and you'll make the room feel taller and more open.
Add Height
Another way to add height and more space to a small room is with window dressings. Try hanging curtain rods a foot or more above the top of the window frame and using heavy, solid colored drapes on either side. You'll be amazed by how much of a difference it makes to the overall look and feel of the space. Not only does it make the window seem larger, it evokes the elegance and sophistication of a high vaulted ceiling with no remodeling.
These tips are all excellent places to begin when designing a small room. You can use the above ideas in living rooms, bedrooms, dining rooms and even kitchens depending on the layout of your home. Even the simplest changes can create more space and help you enjoy your home to the fullest.