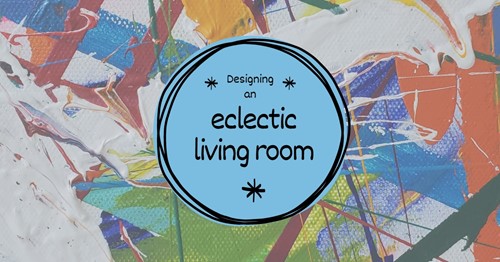 If you have trouble choosing a living room design style, you might consider an eclectic living room. The eclectic style mixes many styles, embracing patterns and hues from a variety of sources.
Rather than cluttered or chaotic, eclectic spaces find the perfect balance of all the pieces to achieve a sophisticated and dramatic aesthetic.
This concept of controlled chaos is what makes eclectic rooms so exciting. However, there are some key elements to include in your design. Here is a short guide to the basics of an eclectic living room:
Combine eras, styles & materials
An eclectic living room allows you to get creative with mixing furniture and decor from a variety of eras and design styles. For example, you can use a contemporary sofa, a boho-chic area rug and a midcentury modern coffee table together in perfect harmony.
Mix patterns & textures
Patterns and textures are important elements of eclectic style, and you should feel free to experiment with different combinations. Try mixing organic and geometric shapes, or repeat the same patterns at different scales.
Incorporate vintage & antique pieces
Vintage and antique furnishings are key to making your living room unique and true to the spirit of the eclectic decorating style. Go for well-worn items with plenty of history to add depth and character to your space.
Add layers
Layering fabrics and even area rugs can further enhance an eclectic living room design. To keep the space inviting and cozy without creating clutter, stick to neutral and earth tones when adding layers.
Keep the layout comfortable & casual
An eclectic living space is warm, inviting and casual. Avoid overly formal furniture arrangements and instead focus on creating comfortable conversation. You can also use nontraditional and casual furniture choices like a pouf or floor pillow instead of a chair.
Have plenty of plants
An ideal eclectic space has plenty of natural elements, including houseplants. Bringing a bit of nature indoors with a few easy-care plants in unique, decorative containers will help to create a lived-in atmosphere and add a pop of green to any color palette.
Find global inspiration
If you love to travel, an eclectic living room is the perfect place to showcase treasures found on your journeys. Incorporate global accents like traditional art, woven baskets and tapestries to cultivate the adventurous spirit of eclectic design.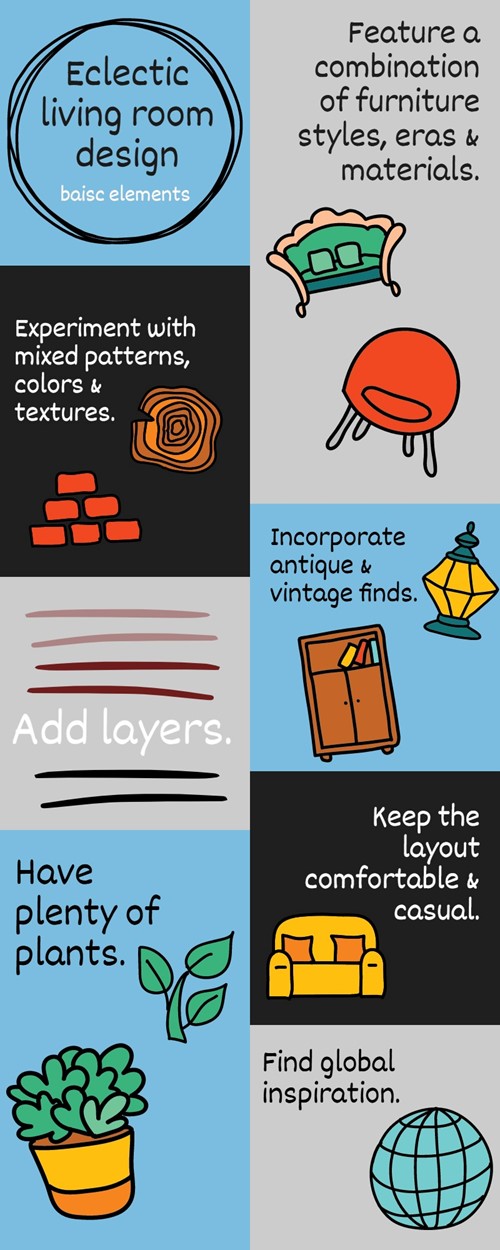 Are you ready to design your own eclectic living room? Keep these eclectic living room ideas in mind and create a unique and exciting living space to call your own.